❌ SPENT
Opinion Bartender: Stocksons.com - a flagship project from the KhOPG Dneprovsky. The guys know how to work, everyone should take 2-3 rounds in this project. You can see the corporate identity and the high cost of creation, with the technical part everything is fine. The project competently started before the holidays, the "leaders" who were sooooo from the New Year's party have not yet joined the buildup - all the chances of an excellent profit. In short, join.
For hotheads, I want to note that the Dneprovskiy KhOPG (as authoritative people rely on it) turned on "Scam" statuses, inquiries / complaints in support, your expectations for the service and profit. If they decide to block your account because of a large deposit, or just cut everyone in this project - no one will stop them. These risks must be taken into account, the guys are independent, impudent and frostbitten.
Project Information
The Stocksons.com resource makes a good impression - the design is solid, everything is in its place, there are many sections, a lot of letters. But you do not need to believe the information that he has been working since 2015, since the admin rented the domain in October 2019. It is rather part of the legend, and here it is about everyone's favorite trading. And not just anywhere, but on stock exchanges. In a word, the hand reaches for the wallet, but hold back reflexes and read the review to the end.
stocksons.com in all respects, it draws on foreign hype, and 13 language versions of the site clearly indicate that the admin did not come to joke, but will confidently develop the fund at the international level. This feeling is reinforced by the fact that the project is notably stuffed with technology - here you have a self-written script, a dedicated server, and even a domain for 10 years. Therefore, you yourself understand that this is not just another school hype: the admin worked hard and spent money, so he will have to work anyway. Interestingly, he chose 05.12.2019/XNUMX/XNUMX to start, namely the pre-New Year period, when hype players behave sluggishly and slowly reel in their fishing rods in anticipation of the winter holidays. Not otherwise than I wanted to start work smoothly.
The project has not yet been dragged to govoforumy, suckers, too, have not yet managed to replicate it on their blogs. But, as soon as everyone finally gets out of the New Year's drinking bout, Stocksons.com will probably start actively deposing. Judging by the progressive affiliate program with ranks and other goodies, the site is focused on development according to MLM structures, therefore, referralists and barkers will still catch up here and will download hype with all their might.
Moreover, the project is from a well-known team codenamed "Dnepr". The guys turned out very well: they stamp 10-15 projects a year, have their own developed traffic channels, do not take listings. KhOPG - HYIP organized criminal great grouping. Beautiful, because in their projects in 90% of cases you can make very good money, they work 2-5 circles.
Investment rates in the project and affiliate program
It's time to consider what the admin has done with marketing. All byDnieper»Classics. He offers Depot in four tariffs, each of them has its own subscriptions for every taste and color. There are not so many working tariffs available for even less. There are no options for homeless investors with minted coins - the admin is ready to work with a minimum of 50 bucks, so if you are not ready to open a wallet for such amounts, then you are welcome to the fast section.
The most affordable tariff accepts from $ 50 to $ 3500, and for a period of 30 working days, it will pay a profit of 1.7% on business days. Dep will arrive to the account at the end of the entire period, and the profit will be 51% of the amount. The remaining plans are designed for returns from 1.42% to 2.3% on business days for a period of 25-120 business days. But only true gourmets-pinocchio can invest in most of the tariffs, since the minimum threshold for entry for ordinary mortals is incredibly high.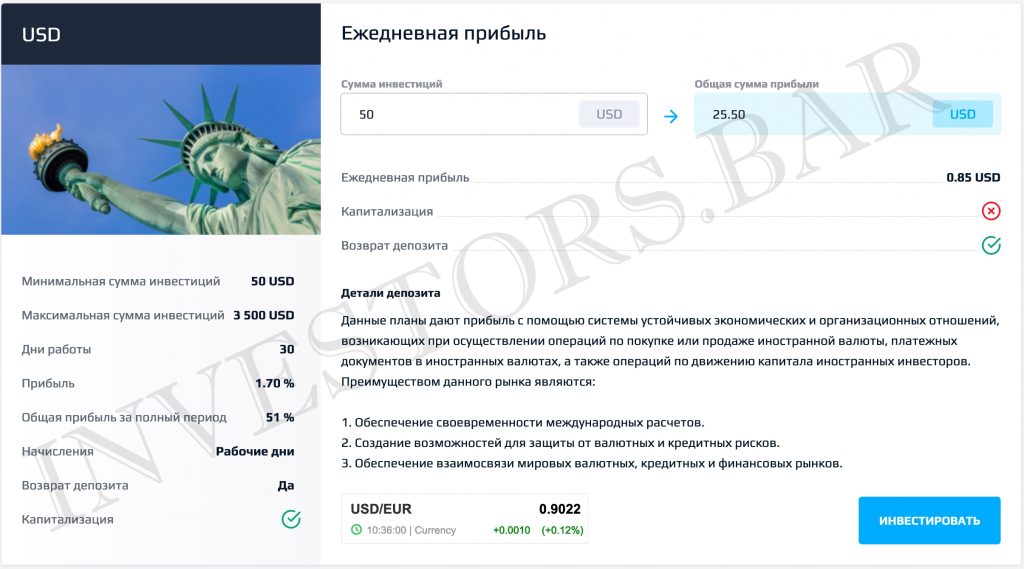 There is a lot of interesting things for partners at Stocksons.com, but you won't be able to participate without a deposit. If you made a contribution of $ 50 or more, then a four-level referral will open with payments in the amount of 7% -2% -1% -1%. You can earn more with large deposits and turnover of the structure, up to the opening of eight levels of remuneration. Paradise for suckers.

Registration on the fund website and creation of a deposit
If you haven't figured out how to register and deposit on Stocksons.com, then look here. We open the site, consider for a moment and admire the design, and then confidently press the "Register" button.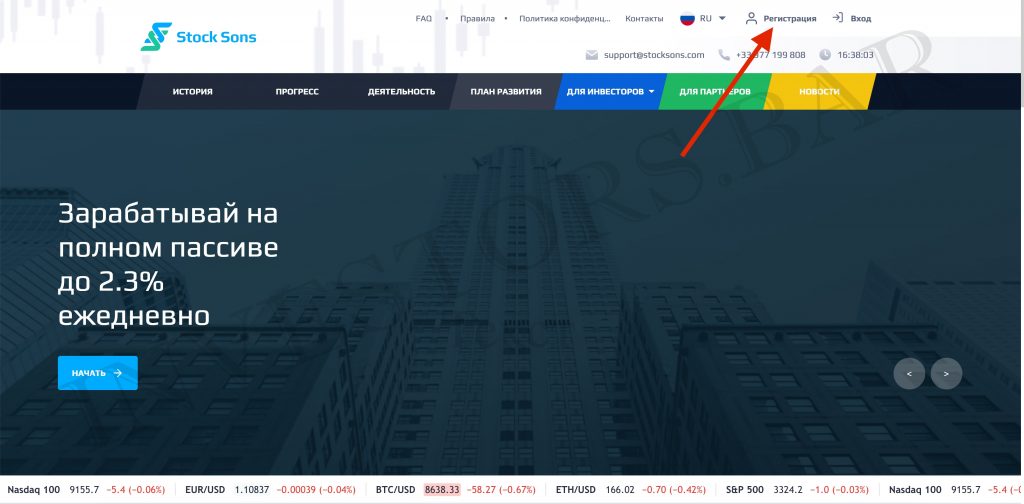 The registration form will jump out, enter the name, surname, mail, password in it (we come up with a reliable one and do not forget to save it). Below we indicate the country, phone number (you can not own one), put a mark that we agree with the terms and click the button "Create an account».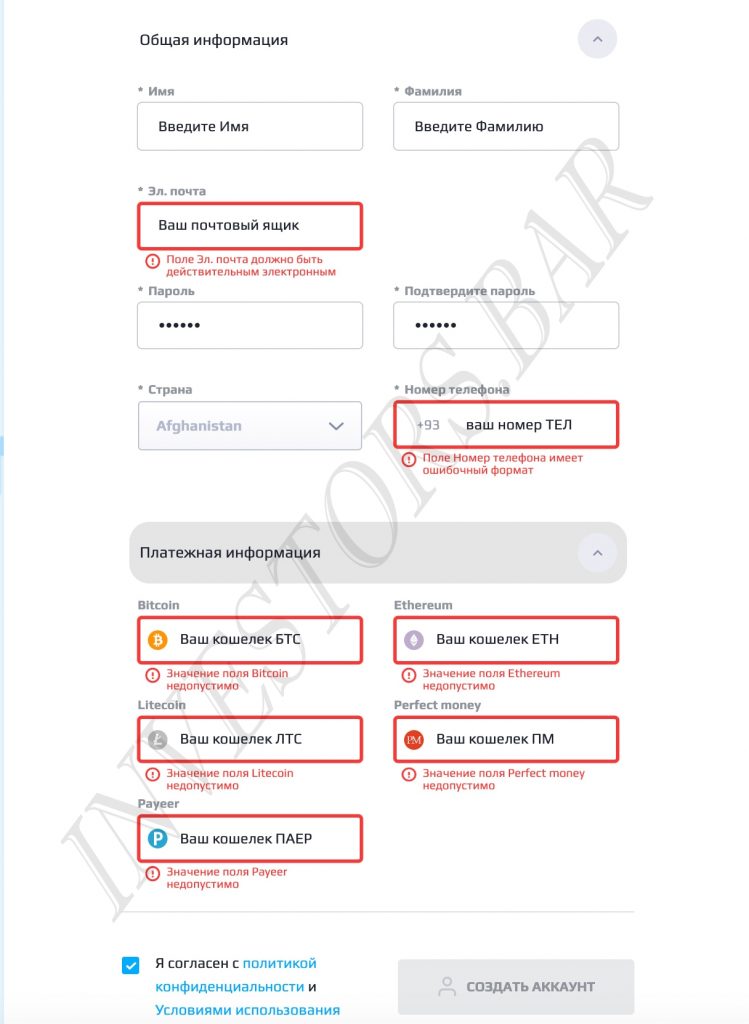 After authorization on the site, you can proceed to create a deposit, this is done in two stages - first, replenish the account, then purchase the selected package. As soon as profit appears on the balance sheet, apply for its withdrawal.
Investment dynamics