❌ SPENT
❌ SPENT
Nixofinance.com Review: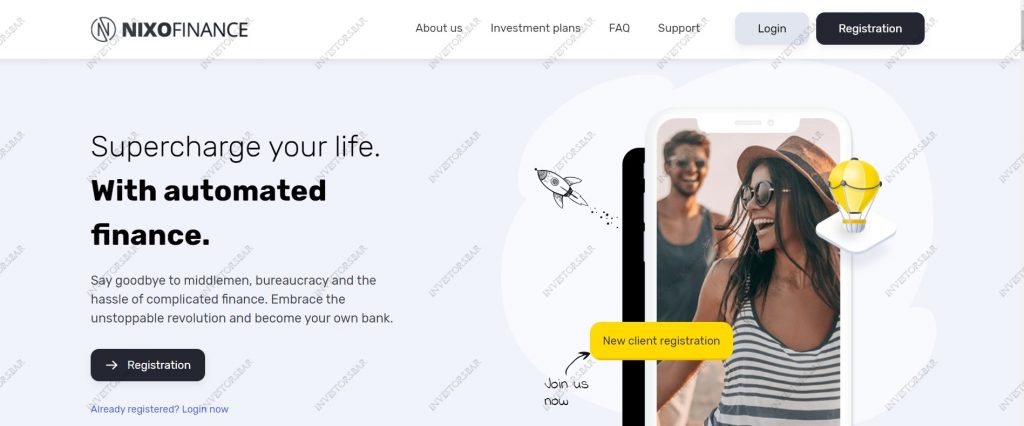 Official start of the HYIP project Nixofinance took place 19 September 2021 years, while the project is not particularly presented on thematic resources, the admin is not in a hurry to advertise, but this may change in any moment. In projects with such aggressive with tariff plans it is better to break in BEFORE started an active PR campaign, so as not to smoke then dick ☝🏿 along with the bulk of the Vlachs.
According to the legend, Nixofinance Is a DCRM company that offers encrypted, automated financial services to anyone, anywhere. The sole founder is Dj queen, he is also a co-founder of Anyswap, founder Fusion, co-founder Vechain, co-founder Qtum and CEO bitse... Shit of course notable, all this hat!
Nixofinance the official site was developed by professionals in their field, therefore it looks quite fresh, its design on 100% unique. All texts are written in competent English, unfortunately there is no Russian version yet. As for other technical characteristics, they are also at a high level: licensed script from GoldCoders, unique design and content, intuitive interface, SSL from Sectigo Limited until September 12, 2022, NameCheap domain registrar for 1 year, hosting and DDOS-Guard protection ... Why did they squeeze the attendants on leased line, I do not understand, but FSUs.
Investment rates at Nixofinance.com and affiliate program: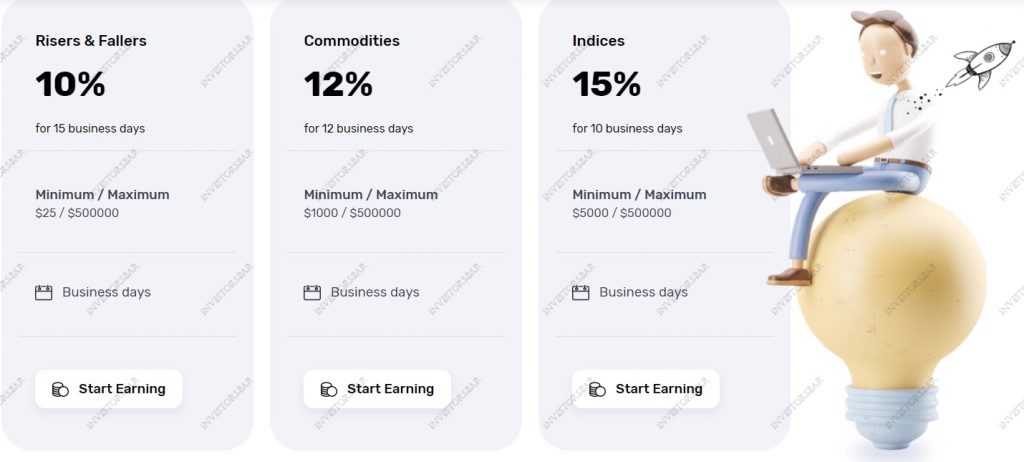 Project administration Nixofinance worked only three investment tariffs. I recommend using first tariff, since for the rest the minimum entry bar is slightly high for fast, admins can squeeze out Buratossian don't fucking bang contributions. And on the first tariff, the entrance is from 25 US dollars, accruals on 10% every working day. The tariff works 15 working days, refund of the deposit at the end of the term NOT provided. Thus, for 15 business days you will receive 50% pure profit, and with my powerful software Nixofinance refback in size 10% comes out fat 60% pure cash!



As for the affiliate program, here the admins are not very generous, therefore we have one-tier affiliate program, which involves the accrual 5% from the deposit of the invited referral.
Registration and creation of a deposit at Nixofinance:
Go to Nixofinance the official site on my link, click in the upper right corner of the button "Registration"And fill out the registration form in Latin: name, login, mail twice, password twice, wallet number. Check that in the column "Your upline" was written Bartender, which will make it possible to get a bright bonus from me in the amount of 10%... Then press the button below "Sign Up".



Then go to Nixofinance personal account using your registration data. To create a deposit, press the button "Invest", Choose a tariff plan, choose a payment system, enter the required amount and click"Make Deposit".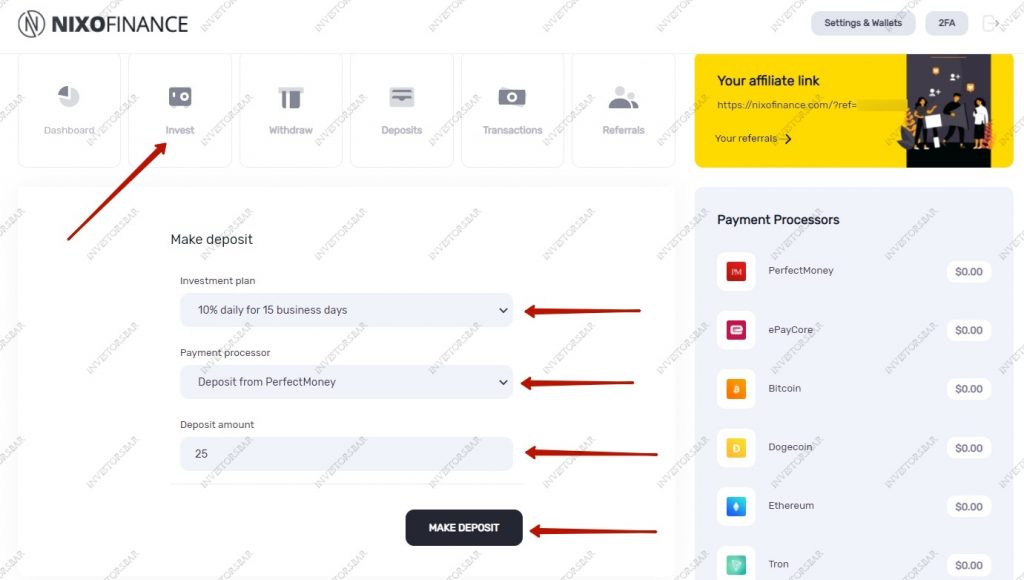 On the next tab, just press the button "Process", After which you confirm the transaction in the merchant payments.
Be sure to withdraw your profit every day, because savory drips 10%... To do this, press the button "Withdraw"And create a withdrawal request.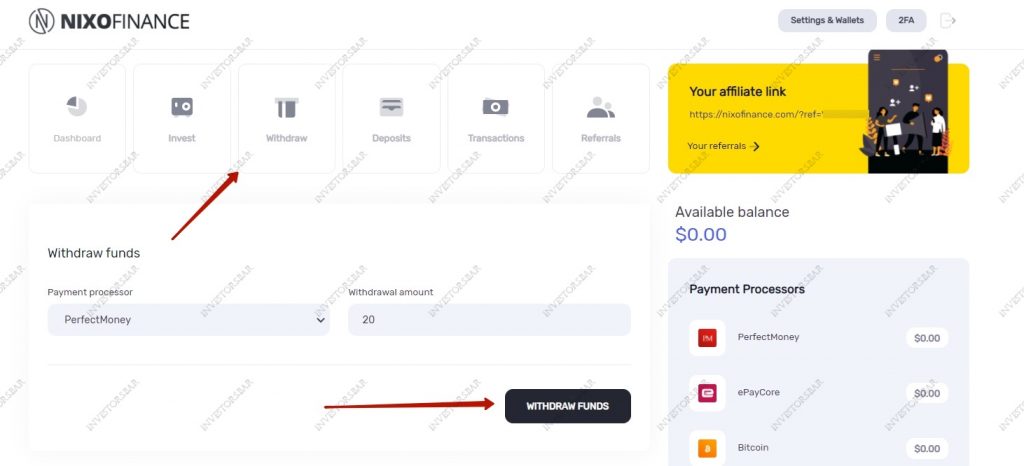 Lifehack from the bartender:
The minimum investment amount is $ 25;

The minimum payment amount is: $ 1 for fiat, $ 20 for cryptocurrencies;

Investing in the fund can be done through payment systems: Perfect Money, ePayCore, Bitcoin, Ethereum, Dogecoin, Tron;

There are manual payments in the project;
Dynamics of deposits: