❌ SPENT
❌ SPENT
Information about the Invest-card.com project:
Bartender's opinion: investcard.com - This is enough fresh highly profitable project in 2021, which began to operate a little over 2 weeks agoDP_Curious... Information about who directly supervises the project Invest-card I still have no, but at first glance at the platform, it becomes clear to any fraer that they rule here grated peppers. They accept dollars and crypt here, the payments are shitty instant, minimum wage acceptableyield adequate, pros outweigh cons ... I could not pass by, because at the moment, among tons of fucking, it is not so easy to catch a normal and promising hype, that's why I wrote down the review Invest-card, in which he personally entered 500 crispy greenfinches.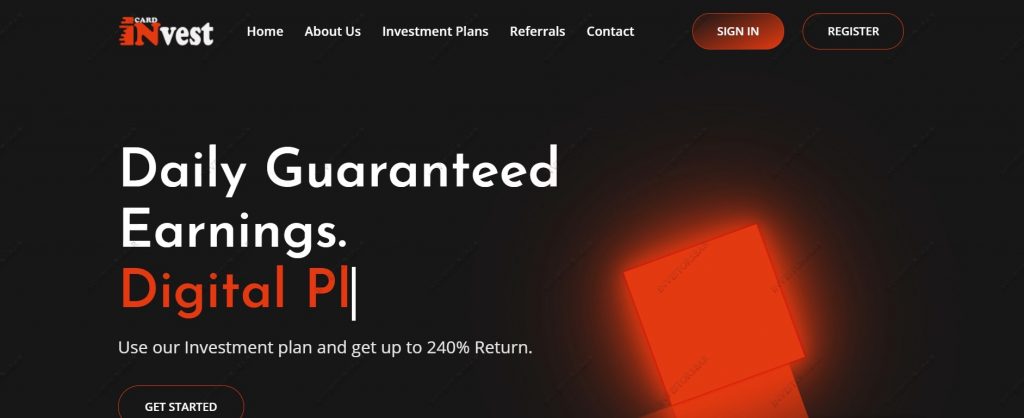 Official start of the HYIP project Invest-card took place 15 July 2021, after which the administration began literate PR on thematic resources. PR campaign Secondary scale: not to say that the guys shake money on advertising, but also superzakidona also did not take place.
According to the legend, Invest-card - is financial a company that is a kind of bridge between mere mortals and sharks of cryptocurrency trading. According to the administration, now it will be able to make money on cryptocurrency trading each... And most importantly, you don't need to fucking do or have special knowledge. Just let's throw money for admins, and experienced traders and first-class software will already do everything for us🍺



Graphic Design Invest-card official site on 100% unique, it is performed in dark tones, look very elegant and serious. All texts on the platform too original, the main page is in English only, but Invest-card personal account has already been translated into 5 languages, Russian the language is also listed. In general, all technical gadgets correspond to a high-level project: licensed script from GoldCoders, unique design and content, intuitive interface, SSL from Sectigo Limited until July 22, 2022, Tucows Domains domain registrar for 3 years, hosted by DDOS-Guard. And then there is a modest video presentation платформы. Из минусов — отсутствие selected lines and registration company documents.
Investment rates in the project and affiliate program: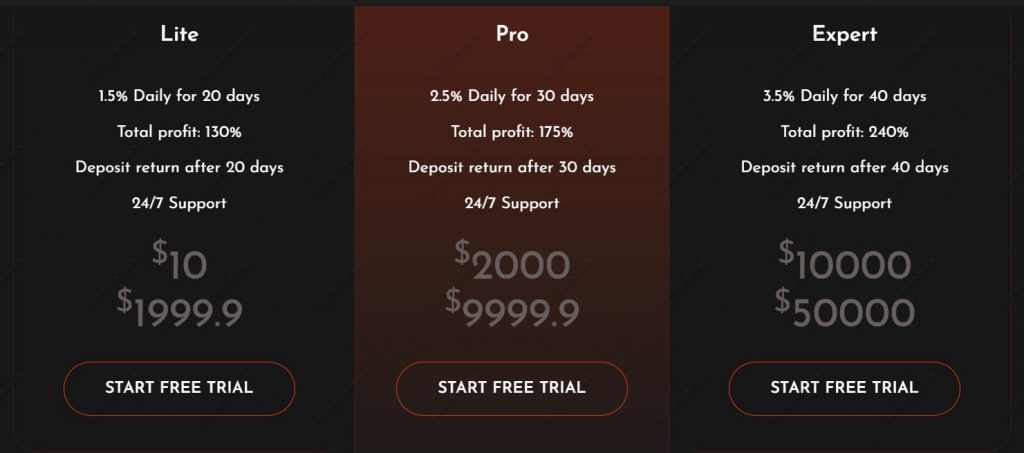 Admins of the project Invest-card worked three investment rates, the size of the profit in which grows in direct proportion to the size Deposit... I recommend using first tariff, since the rest of the minimum entry bar is slightly tall... And on the first tariff, the entrance is from 10 Baku, accruals on 1.5% every calendar day, return of the depot in 20 days. In total, we have 30% pure profit, and with my coolest Invest-card refback in size 7% out 37% cash, which is very unscrupulously!



As for the affiliate program, it is linear up to 3 levels deep... There is an opportunity to get 5-2-1% from the invitee's deposit, respectively!
Registration and creation of a deposit at Invest-card.com:
Go to the site by my link, click in the upper right corner the button "Sign Up» и заполняете регистрационную форму латиницей: имя, логин, почта, пароль, страна. Проверяете, чтобы в графе "Your upline" was written Bartenderthat will make it possible to get from me fucked up bonus of 7%... Then press the button below "Sign Up».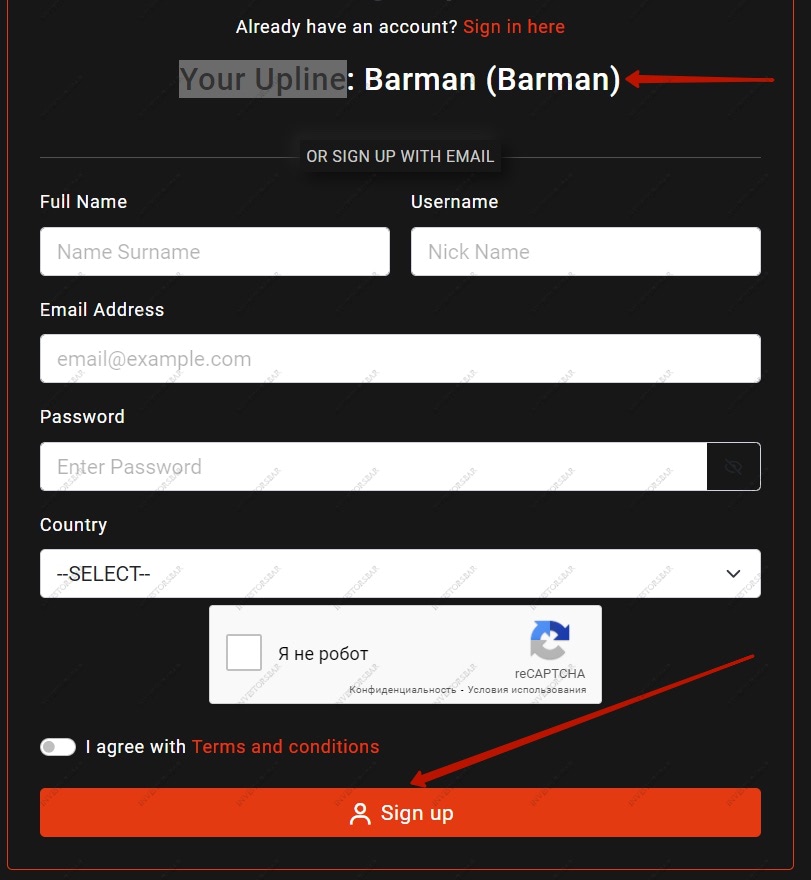 Далее жмете «sign in here» и заходите в личный кабинет Invest-cardusing their registration данные. Для создания депозита жмете в навигационной колонке слева кнопку «MAKE DEPOSIT«, выбираете платежную систему, вводите нужную сумму и кликаете «Deposit«.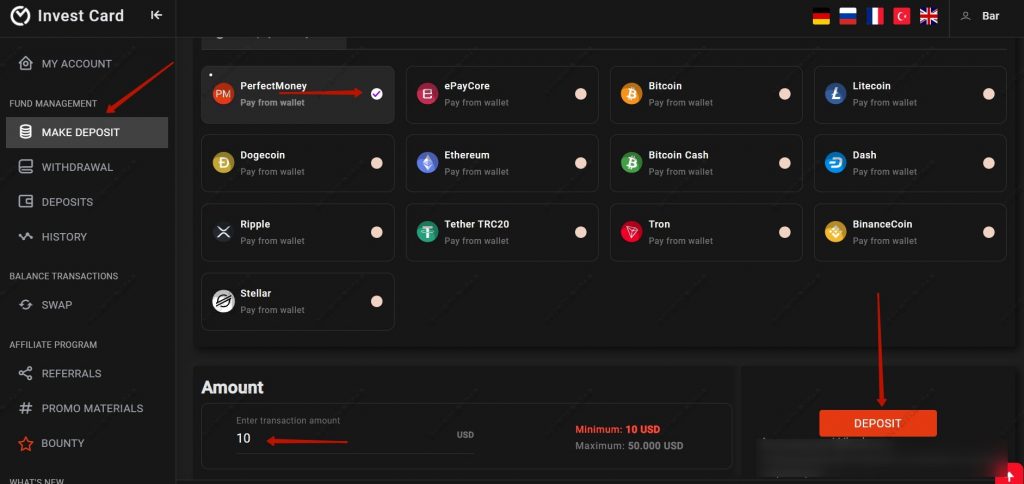 On the next tab, just press the button "PROCESS"And then confirm the transaction in the payment merchant.
Be sure to withdraw your profit every day, because the whole drips 1.5%... To do this, on the left side of your personal account, press the button "WITHDRAWAL"And fill out the form.
Lifehack from the bartender:

The minimum investment amount is $ 10.
The minimum payment amount is: $ 1 for fiat, $ 50 for BTC and ETH, $ 10 for the rest of the crypt.
Investing in the fund can be done through payment systems: Perfect Money, ePayCore, Bitcoin, Ethereum, Litecoin, BinanceCoin, Dogecoin, Tron, Bitcoin Cash, Dash, Ripple, Tether TRC20.
The project has instant payments.
Dynamics of deposits: