❌ SPENT
A very interesting story, with a sad shit, Factoring.ltd - Review, Reviews, Scam!
The story began with the story of one of the Padawans of the bar in a personal ...
From the story I managed to find out: what an odmen asshole!
Hired a gang tinselwho call into the office without sparing throats, and little fingers for a set of dull texts. Our padawan landed in a hug Yarika Novak - he was still asshole, but more on that later.
After treatment with Yarik (dog deputy), Padawan leaned on a little bit more six asashai rupees.
Well, as in a German film - received 4 payments, and was sent to attribute German movie. Support, chats, soap block, LK block, Padawan in sorrow, Novak (which muddle) then steals the Padawans.
And everything would be fine - if not for further history, camon - skooma in our sandbox all the time, one Factoring pty ltd - scam, does not pay - More, one less. Our law-abiding #alcoinvestor went to staffers and recorded a video of what really happens in Factoring ltd - scammersand dumbhead the admin moved the Rolls!! I immediately remembered the Padawan, and the deposit, and found a person in social networks! And do you know why you found it? :DDDD To load Carl!!! — what a Padawan is a bad person, and will figure out where he lives, and will cut him with a dagger: DDDD Isn't it funny?
Further more! Yesterday, one of the HYIP Blogs looked into the situation in detail - who, why, why, and how. As a result, he rolled out a bright article where he put everything on the shelves:
But we are dealing with complete inadequate, who didn't find anything better than to run into the Blog :DDD I don't know how their conversation ended, but today - an article from the resource in a strange way gone, absolutely without any explanation. Fortunately, the web archive remembers everything, and will be displayed in the search results for a long time.
At the request of a bar partner, "bosom bastard" and just a good person publish below an article that Yarik Novak, Odmen idiot and the rest of the gang of chalapeys - trying to cut it out of the Internet by any means. Also, armed with Google, I found in YouTube a dozen more similar frauds, with the same actors - Yarik, Hey!!! Well, it's not a sin to look at aggregators - the office is everywhere without exception in Scam. I publish Article, and I will supplement the news as information becomes available, I doubt that Odmen idiot - stop! ASTANAVIS !!!11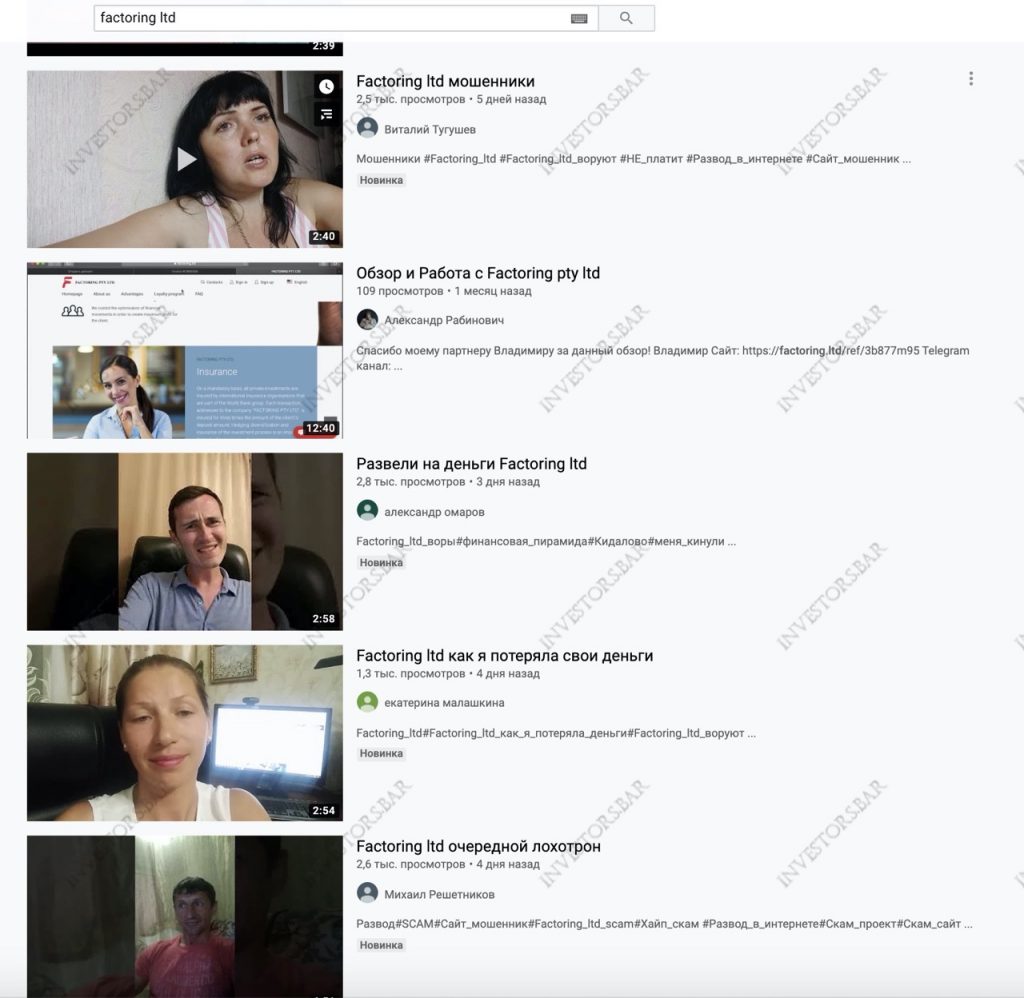 Factoring PTY LTD - scam, scammers and swindlers!
Recently, a huge number of crowdfunding venues has appeared on the network and Factoring PTY LTD is no exception. The essence of such resources is that if a person has a really worthwhile idea, but does not have money for its implementation, he turns to such sites on which he describes in detail why he needs money and other people acting as investors send money to a special account opened on this platform. After the funds are collected, the crowdfunding platform transfers them to the person who posted his idea, subtracting his own percentage from there. This is done on normal platforms and Factoring PTY LTD does not apply to them. Moreover, Factoring offers investors to earn money by investing their money in a particular project and, if successful, to pay the investor a certain amount of income.
In fact, things are as follows: the site simply collects money and does not pay it to either the investor or the one who needs it. Factoring PTY LTD - scam, scam, scammers and crooks!
Let's take it in order
On the company's website you can see information that it has been successfully operating since 2018, but to the domain on which it is located, namely https://factoring.ltd/, and no 3 months at the time of writing. Also, investors are invited to choose the income that he wants to receive from their investments, but by definition, crowdfunding doesn't mean that! IN crowdfunding people invest at their own risk, and again a scam from Factoring LTD!
The platform also offers to earn on a referral program up to 30% from the turnover of attracted users, but whether she pays them is another question. Most probably not. Moreover, the platform uses only such methods of replenishment of the account as Cryptocurrency, Payeer, Perfect Money, which initially, by definition, are anonymous means of payment. The sender does not know and will not be able to find out where his money went!
The contact sections contain Australian data, including a telephone number, email address and legal address of the company. Yes, indeed, a company with these data is registered in Australia, but whether it has anything to do with the project is a big question. The domain name was registered in incognito mode on the Ukrainian IP, which indicates a typical HYIP project. And the funniest thing is that someone told the would-be admins about an oversight with Ukr IP - and a gang of scammers did not find anything better how to change IP to USA / California. Before us is a one-of-a-kind Australian company registered through incognito mode in Google Chrome on Ukr IP - in the process of changing its IP registration to USA. Now you have seen everything (: that is, in fact, if you have any questions, then you should contact the head office of the company - in Australia, and it is not known whether they will answer you.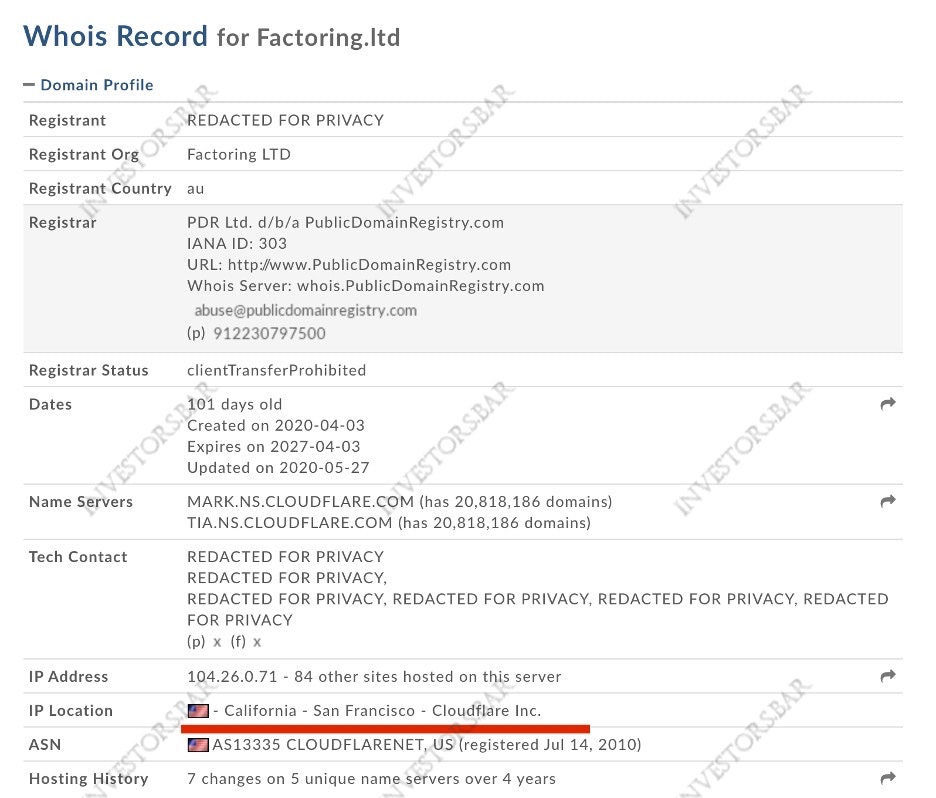 Consider the site through the service alexa.com. Remember that scam scam project is Factoring.ltd, whose document director is a citizen Oscar Frome - allegedly registered a company in Australia, documents are on the site. But having examined the site through alexu, we see the following: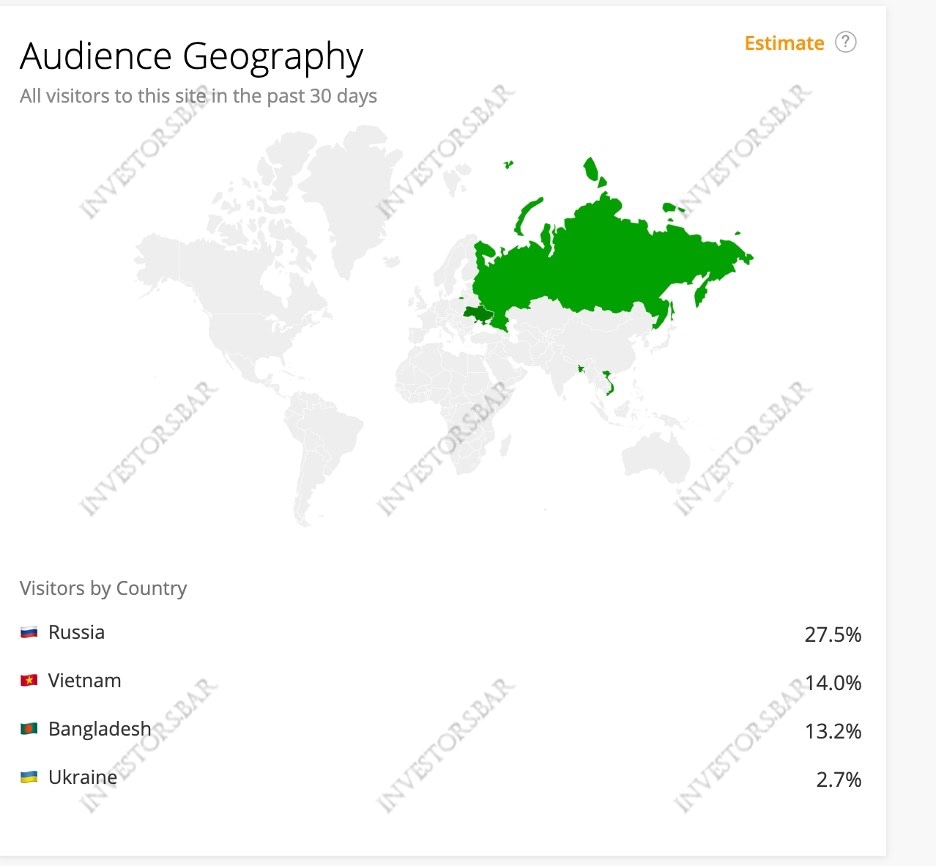 The geography of visitors to the resource of the CIS and third world countries, but where are the citizens of Australia? Isn't it interesting that it turns out - an Australian company with vast experience, and Alex has a rating 537 k+ Is appalling ranking, and in geographic search Australia is not from the word quite.
What about the fictional comrade Oscar? In the modern world, what is not on social networks is not at all. According to the documents we have the director of a "solid" company, originally from the homeland Kangaroo, we begin to google.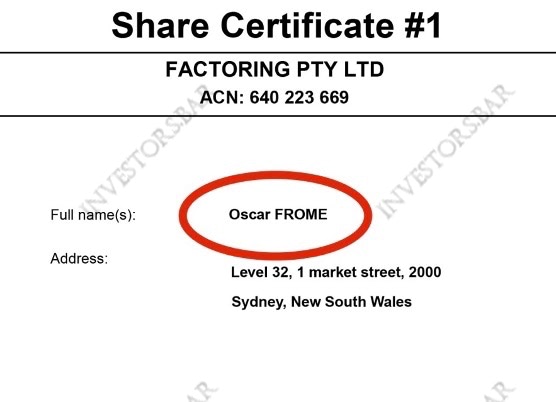 1. Google -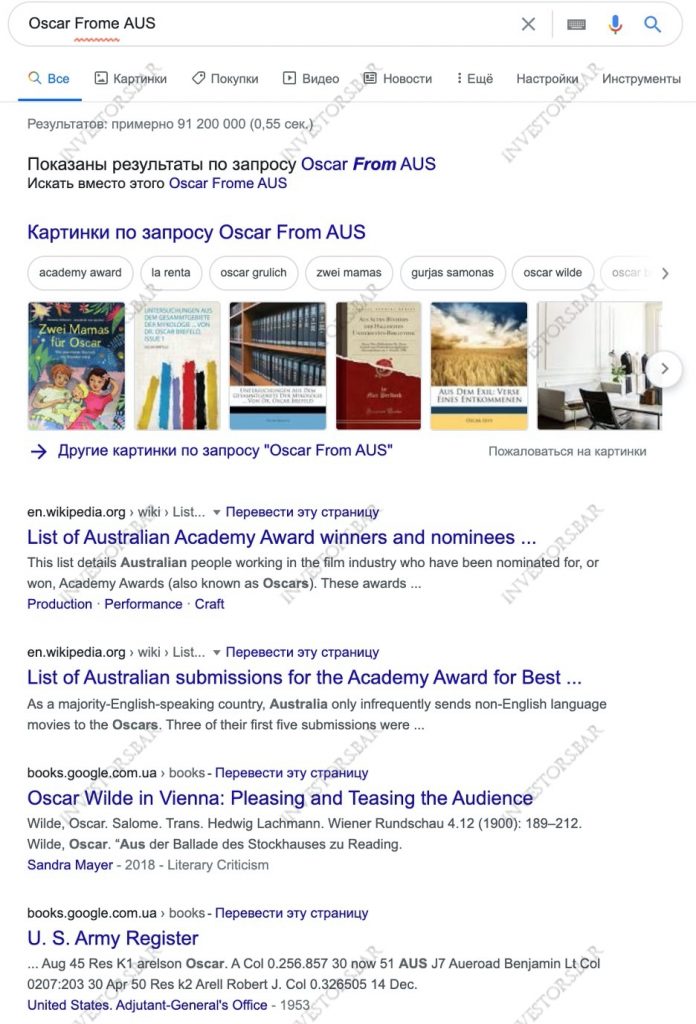 I did not hear anything for Oscar, surprisingly.
2. Facebook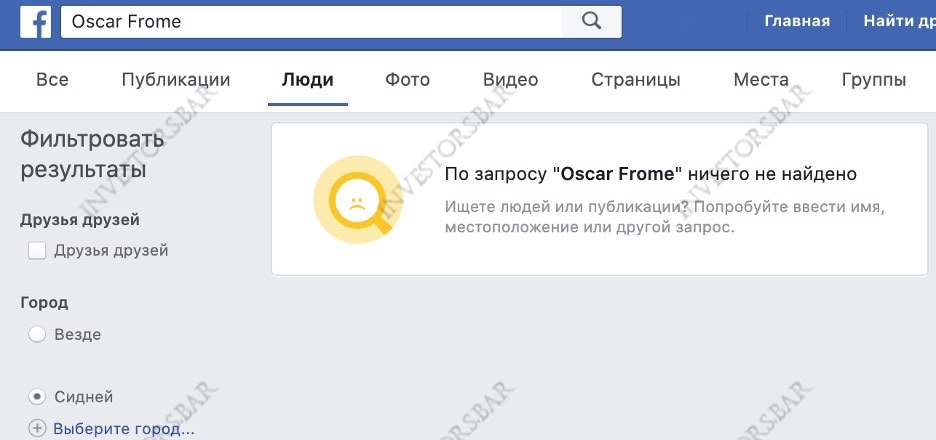 In Sydney - Uncle Oscar did not light up.
3.Linkedin.com

Again did not run.
4.Twitter-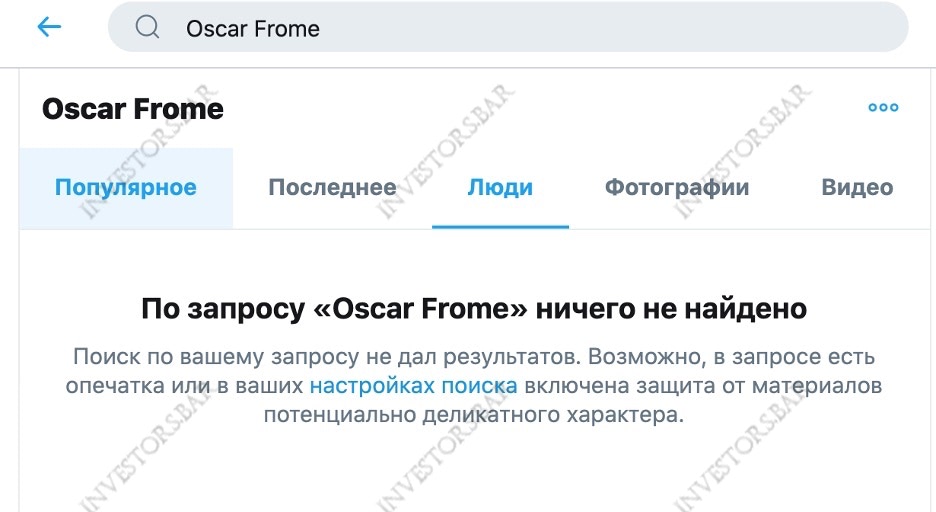 There is no Oscar.
5. Instagram -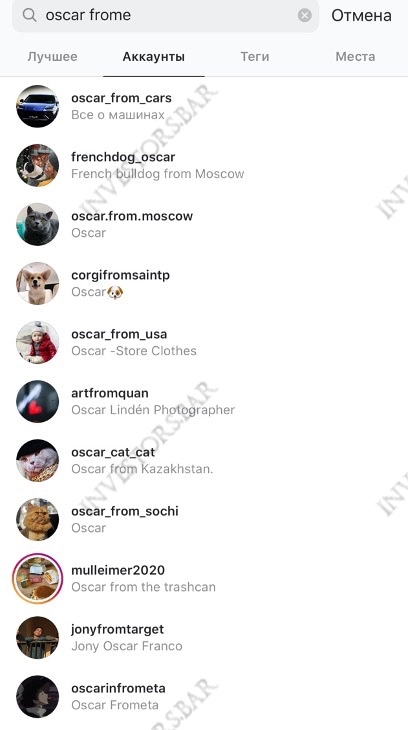 If the desired Oscar is not a cat and a dog, then he is not there again.
Moreover, there is not a single review on the network that the company really pays money to its investors. There are practically no reviews at all, only a couple of negative ones - that's all.
Business portfolio
A rather interesting section on the website is the "Business Portfolio", which lists the amounts for investment, fixed income, and investment periods. So, with a deposit of $ 50 to $ 300 dollars for 5-7 days, you can earn 0.9-1% daily. If you invest from $ 301 to $ 2500 for a period of 15-23 days, the yield will be 1.1% -1.32% for every day! In case you are ready to invest from $ 150000 to $ 250000 for a period of 120 days, the yield will be 2.24%! The conditions are certainly gorgeous, if they were paid, then there would be no price for this project! It is worth noting that the organizers of the Factoring PTY LTD project are scammers and scammers.
Bottom line: Factoring PTY LTD project - scam, scam, scammers and scams!
Is it worth investing in the Factoring PTY LTD project? EVERYTHING NO! If many HYIP projects at least pay for some time, pay, thereby attracting more new users, then this scam does not even call the language a "HYIP"! The maximum you can count on is a couple of payments, for dust in your eyes, and welcome to the block list. They just take and stupidly throw people on money from the very beginning of their day. If you invest at least 1 cent there, then say goodbye to him forever! And if you decide to place your business idea on this project, then even if the required amount is collected, it WILL NOT be paid to you! Although, what I'm talking about, what is the idea - the idea here is only for a gang of scammers who are at the helm. Friends, be careful when choosing crowdfunding sites and platforms for investing funds!
And like a cherry on the cake, a record of the "sweet talk" of administrators from their past project, ForexParadise2.biz. https://www.youtube.com/watch?v=8AjNupFkaKc&t=238 - time reference. Hand face.