❌ SPENT l The opinion of the bartender: When they threw off the name, I thought that the admin had already frowned at my bar and then named the project in honor of his favorite cocktail. Drift, ahahaha. Wow, slipped on.
But after registration, she somehow let go, the project was intelligently assembled. It seems that the admin fucked up a whole bunch in just one cabin: a clicker, and two groups of plans, contests, reviews, a bunch of all kinds of bells and whistles. But convenient, understandable. And the site flies.
The legend, again, for the game is not the most ueban - it's not for you to grow dragons, or to buy gnomes. Depose, and you feel as if crap in a diaper. Rent a car, real business.
In short, you want to Drift your own car empire. Although it will be virtual, it will be able to bring good profit (or not). It also offers rogues to make money on the Internet without investments due to tasks, surfing, affiliate programs and other free ways. Forward, suns!
In general, we can say that Drift is a project that will attract interest both among passive investors who seek to earn money online, and among those who prefer to actively participate in their earnings in order to get a greater profit.
Project Information:
The project is on the start line, as it started 08.02.2020. Despite this, the admin did not shelve the advertising campaign - according to unverified information, listings worth half a million rubles were purchased from the start (but this is not accurate). Technically, the fund is well prepared, there are many ways to make money online, and many of them are available without personal investment.
Drift not quite a typical hype, as it is presented as an economic game. Like all games, he does not have a legend and simply offers to buy a car to earn money, which without any points and troubles can be displayed on a card or wallet.
Investment conditions and affiliate program:
Drift has two tariff lines: one allows you to buy cars, the second is suitable for more serious customers and offers investment in the auto business. Car line includes 12 tariffs with hourly payouts and the total Internet earnings for the month of investing will be 20-32.5%. In addition, each tariff plan can be purchased for a certain amount from 10 to 9990 rubles. All cars will be in operation for 180 days.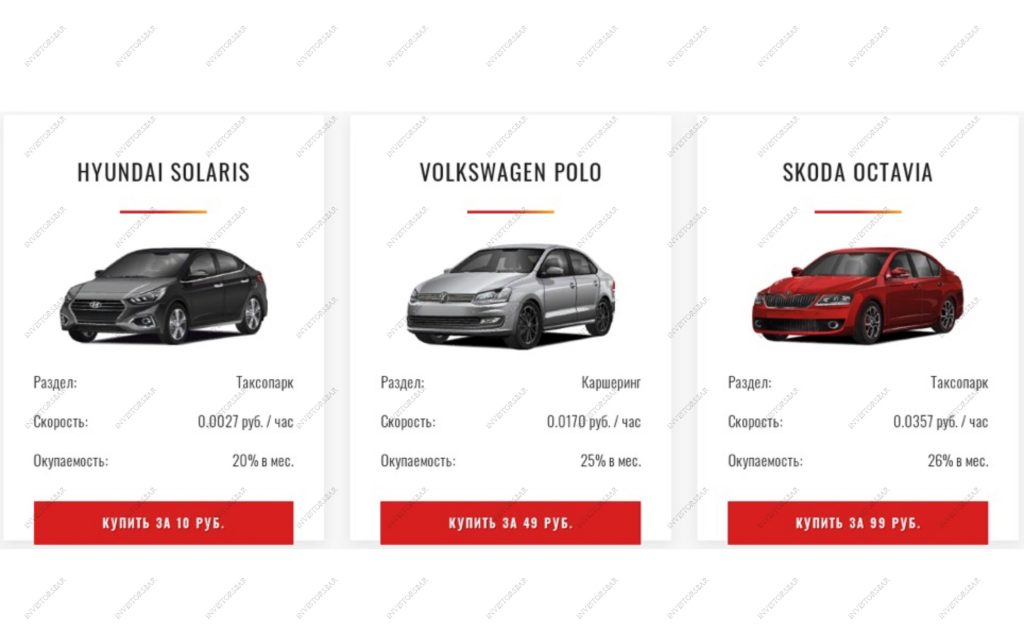 Investments in business They offer to buy certain objects - in fact, these are just tariffs for larger investors. You can invest according to their conditions from 12900 rubles. up to 99900 rub. In this case, Internet earnings will be from 33% to 36% per month.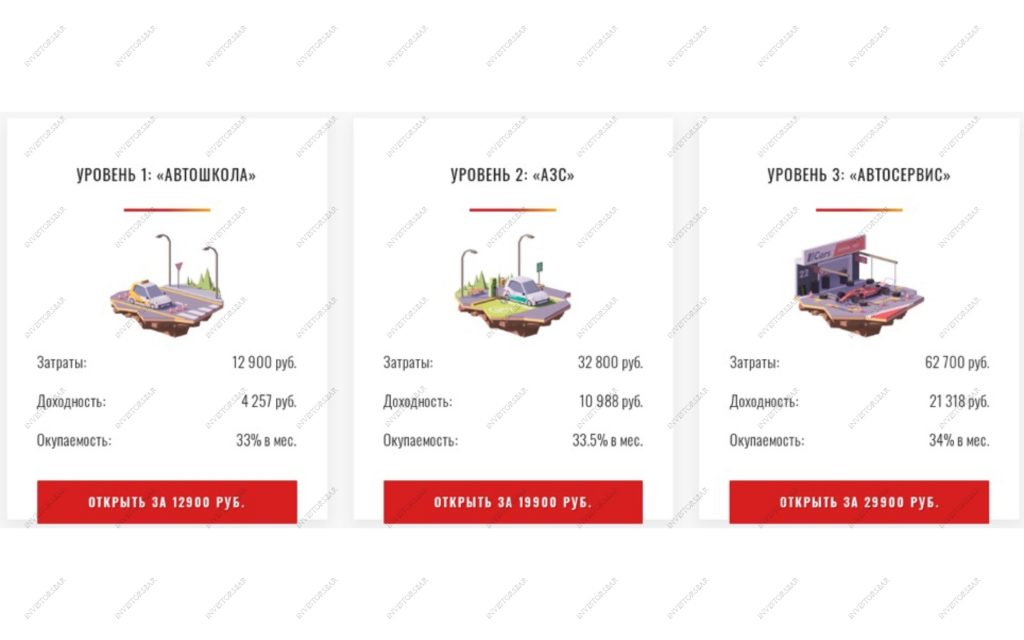 Additionally, on the game's website there is a section "Earnings", Which includes several areas:
Surfing sites - Project clients are invited to view advertisers' sites with a payment of 0.08 rubles each. This is a simple click-through earnings.
Assignments - simple actions for advertising the project: make a video, make a post with payment, invite referrals, subscribe to the project group in VK, etc.
Lottery - Free raffle of the Volkswagen Polo tariff.
Daily bonus - every day, with the simple click of a button, the investor will be able to get 0.01 rubles.
I draw your attention to the fact that the project has three types of balances: for payments, purchases and advertising. You can withdraw money only from the balance for payments, buy new tariffs from the balance for purchases, and the balance for advertising will allow you to unwind your website or affiliate link in Drift.
In addition to profit, the balance for payments also receives affiliate reward. It is paid in three levels: 7% from replenishment of referrals of the first level, 3% from replenishment of partners of the second level and 20% from earning partners on surfing.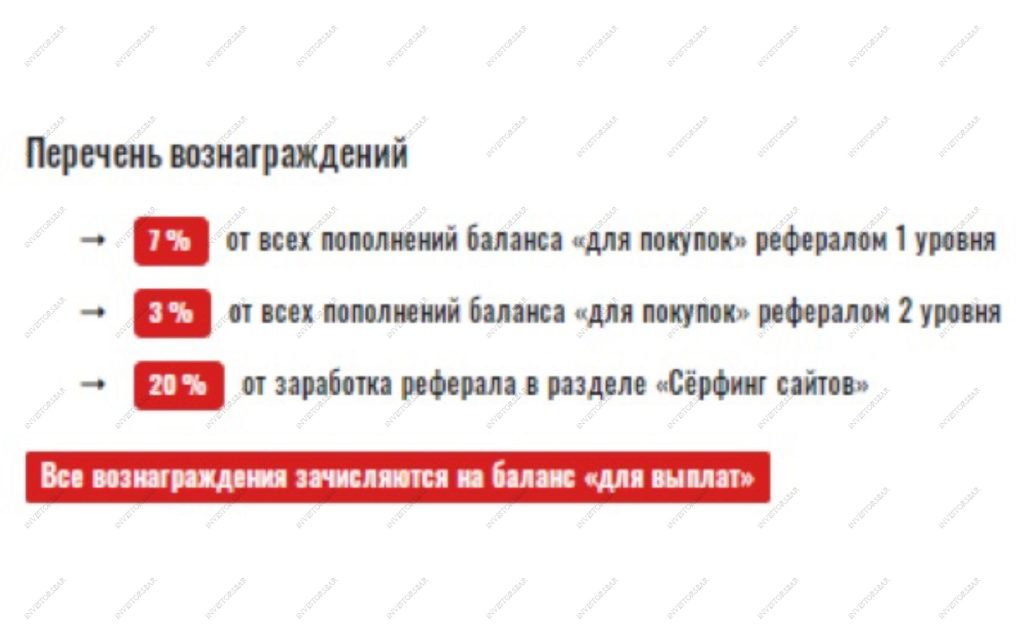 Register on the site and create a deposit:
1. Go to the official Drift website (if for some reason it doesn't work, then there are three "mirrors"). After that, click the "Quick registration».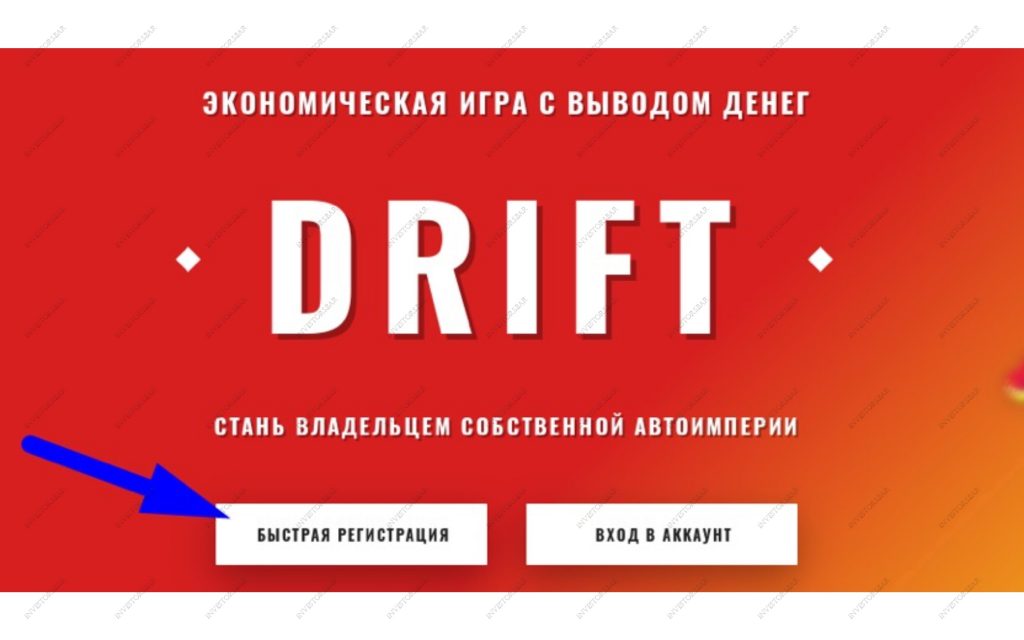 Registration can be done through the registration form, or through an account in social networks, but I do not recommend linking your personal account to the hype. Therefore, we fill out the form in which we specify the username, mail address and password. Finally, click the "Create an account».
To make money in the project you first need to replenish the account, you can do this through the section "Balance replenishment". After that, select the currency, indicate the amount, payment and press the button "Go to balance replenishment". It remains to make payment.
After receiving the money on the balance, select one of the directions "Taxopark","Carsharing" or "Business tiers". Next, select the tariff and click the "Buy».
You can submit a withdrawal request through the "Payout earnings". Next, you need to specify the currency and payment. A window will open in which you need to specify the amount and wallet, then click "Order payment».
Investment dynamics