❌ SPENT
Complete admin in the project Doublify: The growth of bears in quarantine is growing every day, and professional hairdressers follow the sheep, hehe. Swindlers don't fucking sleep, they roll out more and more fiends... From the height of the bar you can see a lot in the hall. And the Bartender remembers every creature that didn't pay for the cocktail. Meet: admin scammer with a new fucking thing - Doublify.me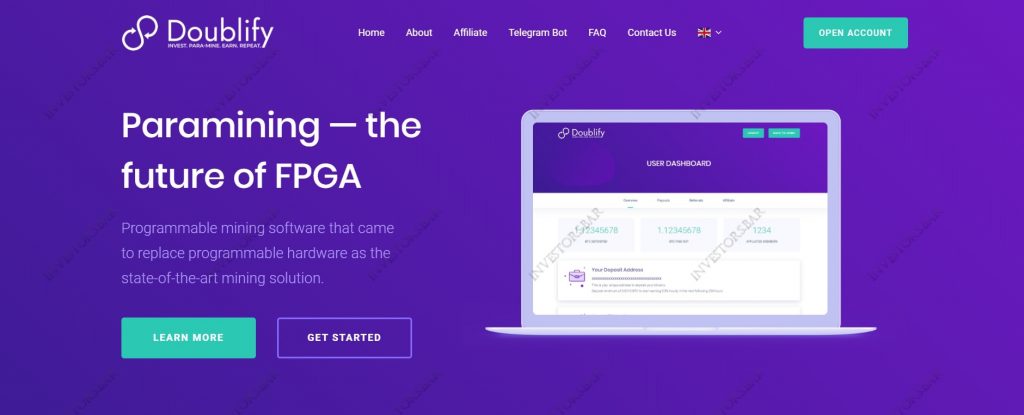 Duplicate me completely, as if the admin tells us.
The project started on July 29, 2020 and it's good that it almost immediately came into my field of vision. Now I can warn you all not to get involved in this global fucking, pidaras—админ didn't make the dough. In past projects, they shaved people very hard, you need such condom sink at the start. If normal guys work as long as there is an opportunity and give experienced players opportunities for good passive earnings, then these rainbow ones did not even allow them to enter breakeven.
According to legend, Doublify is a company that is the inventor and currently the only private patent holder for paramining mining solutions. The company's customers can use the mining dashboard to have unlimited and instant access to private paramining solutions. The technical characteristics of the platform leave much to be desired, in other words - it's just a "hole-hat". They took the design of the site, they even spared money for unique text content, although they still found money for SSL and Dedicated Server.
Past projects
doublife.me - this is a fierce shit from the fagots who administered daylor.com and azmorels.com.
They have the same scripts, similar design features, approximately the same technical characteristics, payment systems and project strategy. As for marketing, for example, Daylour.com offered 6% profitability in just 24 hours with an investment period of 40 days, that is, the total profitability in 40 days would be 240% and there was an affiliate program that paid 10% of the amount of deposits your referrals. The project worked only 4 days! Fucking shame, even for such homosexual... Naturally, everyone plunged into the minus.
Moreover, according to insider information, these creatures asked for installments from monitors / bloggers and threw literally everyone. Ultimate, unprincipled thugs. Trust these nits with money? Do not make me laugh. Better give dollars to the first bum you meet, let drink For your health. There will be more benefits, and karma clean.
Before that, these ass fuckers were administering the azmorels.com project. 5 days of work. FIVE days of work, Karl! Ultimate bastards.
Conclusion:
Do not in any way invest your money in a project called Doublife located at www.doublife.me! These are scammers and scammers, insidious and shameless, they will not pay you a dime of profit! I will drown the project to the fullest, until people have time to invest so that as few people as possible fall into this cunning bathing mousetrap.
Админ www.doublife.me Will never go to our decent establishment. Blacklist, fuck you.
Write Your Review Bartender and partners are 100% negative! Protect your investment - the first rule of business! To all sonorous profit, without shitty admins.
#SEND
#Barman versus
#Stopskam
#doublifycam