❌ SPENT

The admin turned out to be another canine deputy and scum.
Bartender's opinion: 50.capital - Is clear average percentage from a successful team of administrators. Have a healthy thinking in the office, and even had to participate in the last fucking project from these guys, where everything went like clockwork, since they pulled their offspring to the end, thereby proving that they were not scammers, but real guys with eggs! This, of course, does not give any guarantee, and it will be sad - if tomorrow is a scam, or that this time the guys will work just as hard, but it is better to enter with information than to dive into the pool with your head ...
Project Information:
The official start of the project 50.capital took place 28 июня 2020 года. Учитывая, что старт был совсем недавно, информации о платформе в сети пока крайне мало: несколько мониторов, несколько инвестиционных блогов и топики на тематических форумах. Судя по всему рекламу админка пока не покупает, а это нам только на руку… Тише едешь — дальше будешь!
According to the legend, 50 CAPITAL GROUP PTY LTD — это австралийская компания, объединившая в себе большую команду специалистов различного профиля с многолетним опытом, которая занимается инновационными разработками торговых роботов, с последующим их использованием для получения прибыли. Компания использует своих роботов для торговли на криптобиржах, получая сверхприбыли от повышенной волатильности рынка. 50 CAPITAL GROUP PTY LTD It has offices in Sydney and London, and its director, allegedly, is Matt Mason. Digging is also officially registered in Australia and England, certificates can be found on the website.
Technical characteristics of the platform correspond to the project of a high level of preparation: a self-written script, unique design, original content, an intuitive personal account, SSL from DigiCert Inc until June 17, 2021, domain registrar NameCheap for 1 year, hosting from OVH, a dedicated server, the presence of 11 language versions, company registration numbers 641 460 335 (Australia) and 12689718 (England).
Investment rates in the project and affiliate program: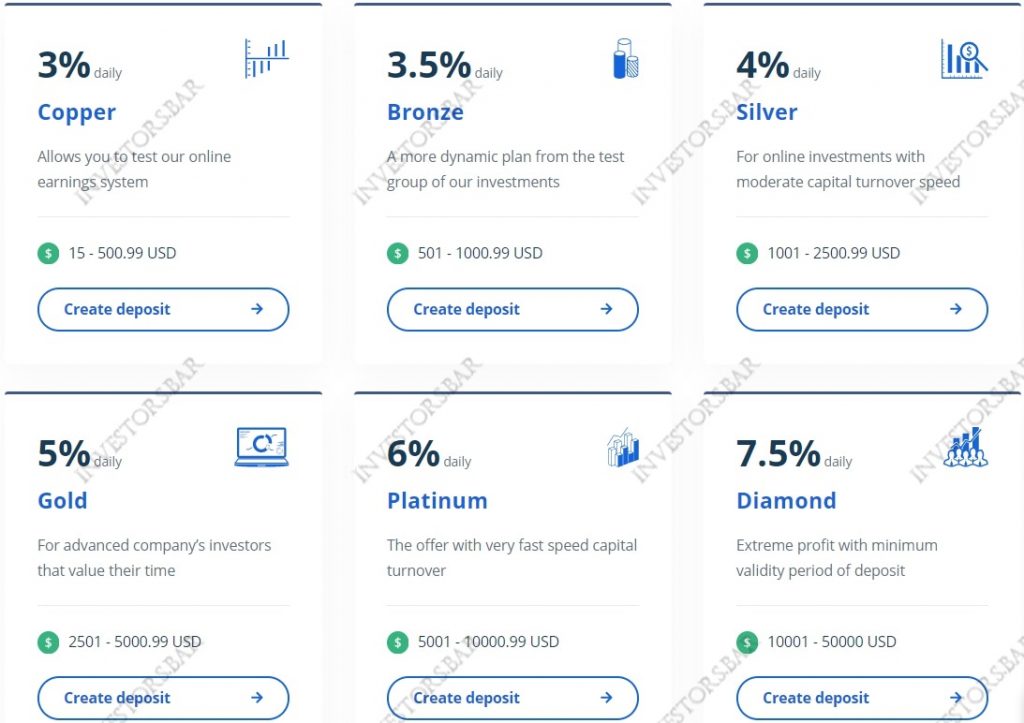 The administration has envisioned a very dynamic investment marketing, which consists of 6 investment tariffs with profitability from 3% to 7.5% in a day. The amount of interest received is directly proportional to the size of your deposit, and the deposit is included in daily accruals. The deposit for all plans stops working after receiving 150% income, and this 50% net profit. Details of the tariff schedule can be found on the screenshot above.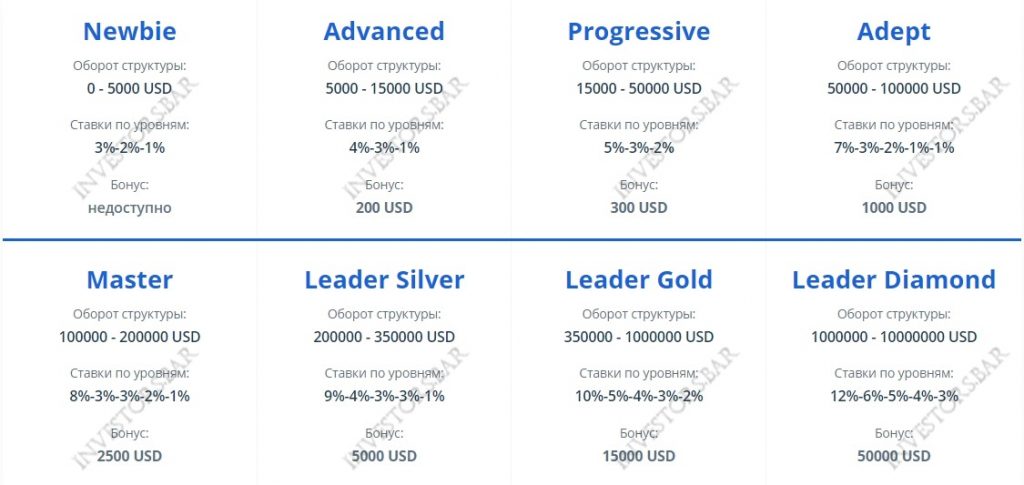 The project provides for a linear partnership program up to fifth level in depth. However, the levels and value of the bonus increase upon reaching different leadership ranks, which in turn depend on the turnover of your structure. Private depositor up to 5000 dollars gets the following refka: 3-2-1%.
Registration and creation of a deposit:
Благо, что у сайта имеется русская версия, но все же для новичков, чтоб им проще было разобраться накатал пошаговую инструкцию! Итак… Переходим на сайт по моей ссылке и жмем в правом верхнем углу кнопку «REGISTER«. Далее заполняем регистрационную форму латиницей: почта, логин, пароль и платежный пароль. Обязательно проверьте, что в графе «Sponsor»Written Bartenderto qualify for # mind-blowing_ crazy_ uncompromising referral from bearded man. Click the "Create Account" button.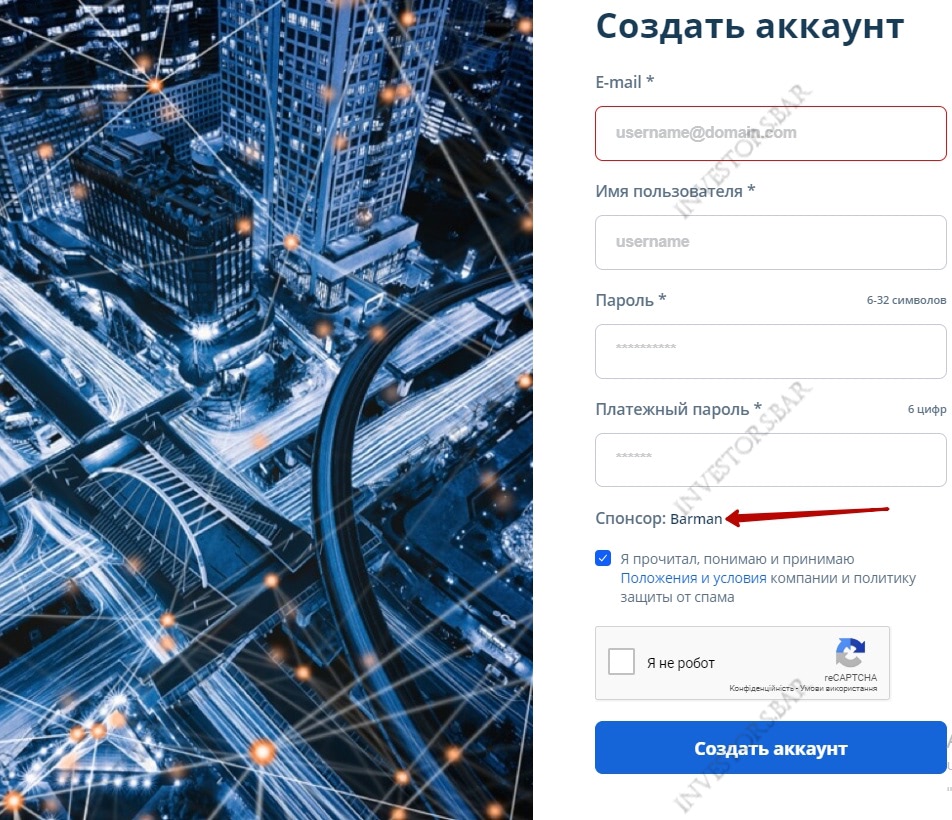 Влаха автоматом перебрасывает в личный кабинет, где для пополнения надо жмакать кнопку в колонке слева «Fill up balance«. Теперь выбираем нужную платежную систему, вводим желаемую сумму и жмем «Fill up balance«.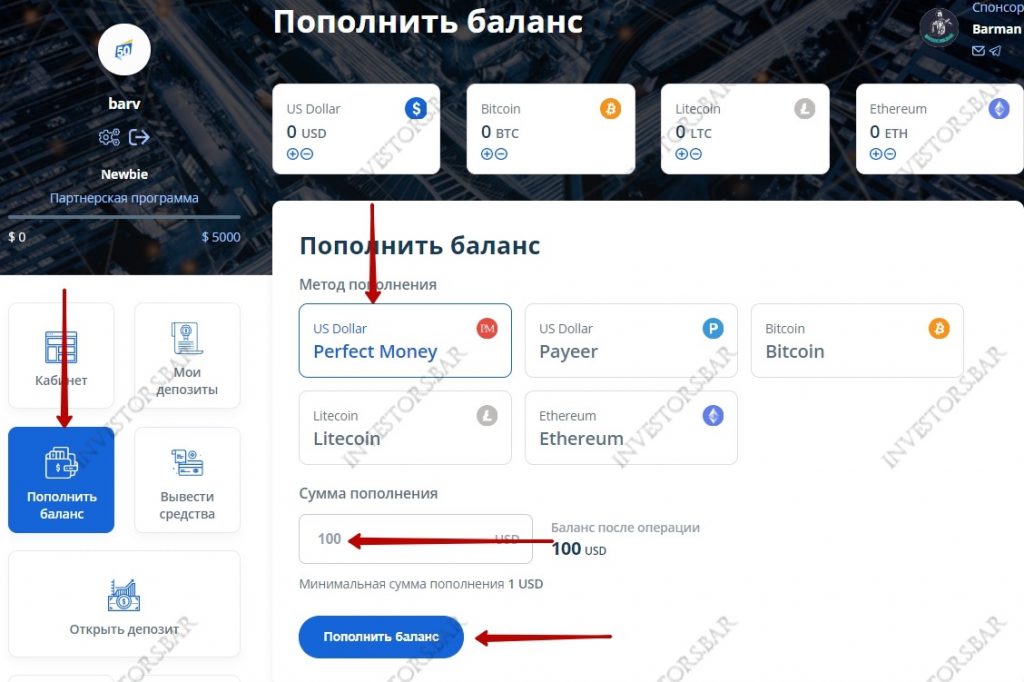 Next, we carry out the necessary actions in merchant payments and bench поступает на баланс. Возвращаемся в личный кабинет и жмем слева «Open deposit«. Выбираем валюту, вводим сумму вклада и нажимаем «Open deposit«.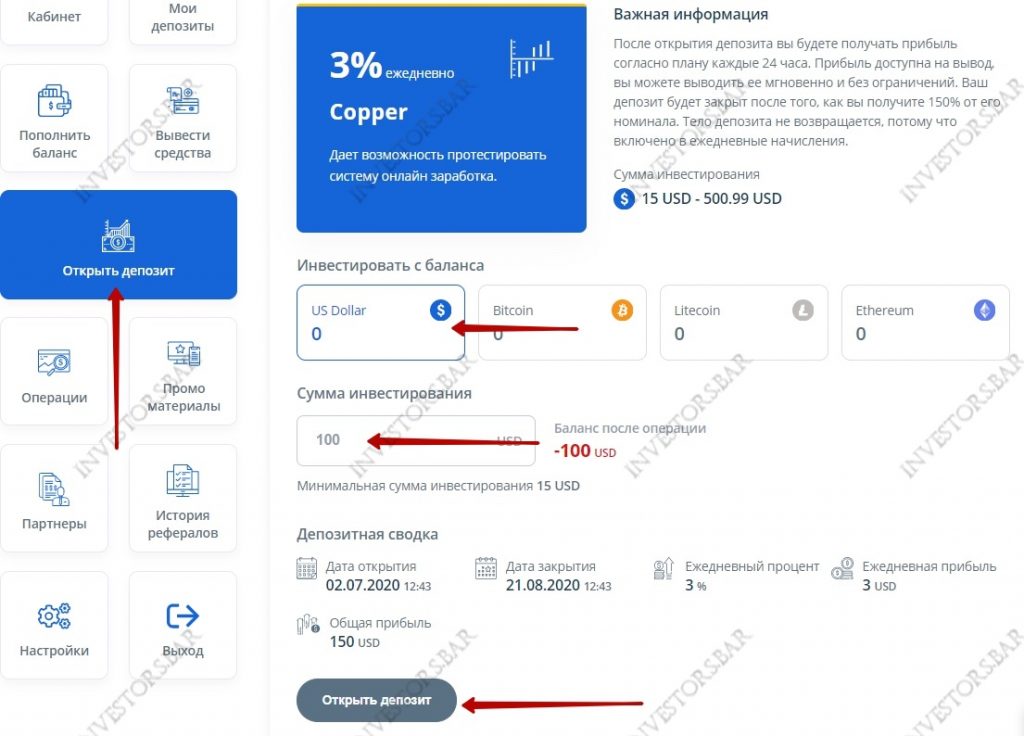 We enjoy daily income and do not forget to order daily asashayskie_rupia to the conclusion!
Lifehack from the bartender:
The minimum investment amount is 15$.
The minimum amount for payment is: $ 1, 0.0014 BTC, 0.05 ETH, 0.01 LTC.
Investment in the fund can be made through payment systems PerfectMoney, Payeer, Bitcoin, Ethereum, Litecoin.
The project has instant payments, instant.
It is possible to withdraw HYIP earnings only for the payment system with which you opened a deposit.
Investment Dynamics: