❌ SPENT

The admin turned out to be another canine deputy and scum.
Bartender's opinion: 50.capital - is clear average percentage from a successful team of administrators. Have a healthy thinking in the office, and even had to participate in the last fucking project from these guys, where everything went like clockwork, since they pulled their offspring to the end, thereby proving that they were not scammers, but real guys with eggs! This, of course, does not give any guarantee, and it will be sad - if tomorrow is a scam, or that this time the guys will work just as hard, but it is better to enter with information than to dive into the pool with your head ...
Project Information:
The official start of the project 50.capital took place 28 June 2020. Considering that the start was very recent, there is still very little information about the platform on the network: several monitors, several investment blogs and topics on thematic forums. Apparently, the admin panel is not buying advertising yet, and this only plays into our hands ... If you drive slower, you will continue!
According to the legend, 50 CAPITAL GROUP PTY LTD Is an Australian company that brings together a large team of specialists of various profiles with many years of experience, which is engaged in innovative development of trading robots, with their subsequent use for profit. The company uses its robots to trade on crypto exchanges, reaping super profits from increased market volatility. 50 CAPITAL GROUP PTY LTD It has offices in Sydney and London, and its director, allegedly, is Matt Mason. Digging is also officially registered in Australia and England, certificates can be found on the website.
Technical characteristics of the platform correspond to the project of a high level of preparation: a self-written script, unique design, original content, an intuitive personal account, SSL from DigiCert Inc until June 17, 2021, domain registrar NameCheap for 1 year, hosting from OVH, a dedicated server, the presence of 11 language versions, company registration numbers 641 460 335 (Australia) and 12689718 (England).
Investment rates in the project and affiliate program: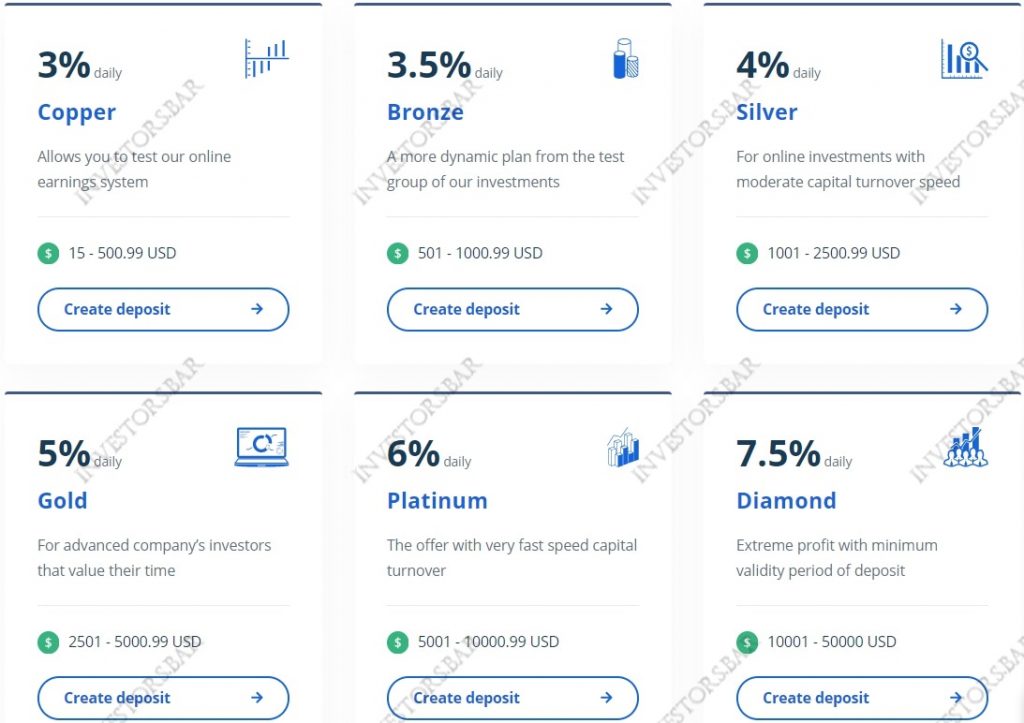 The administration has envisioned a very dynamic investment marketing, which consists of 6 investment tariffs with profitability from 3% to 7.5% in a day. The amount of interest received is directly proportional to the size of your deposit, and the deposit is included in daily accruals. The deposit for all plans stops working after receiving 150% income, and this 50% net profit. Details of the tariff schedule can be found on the screenshot above.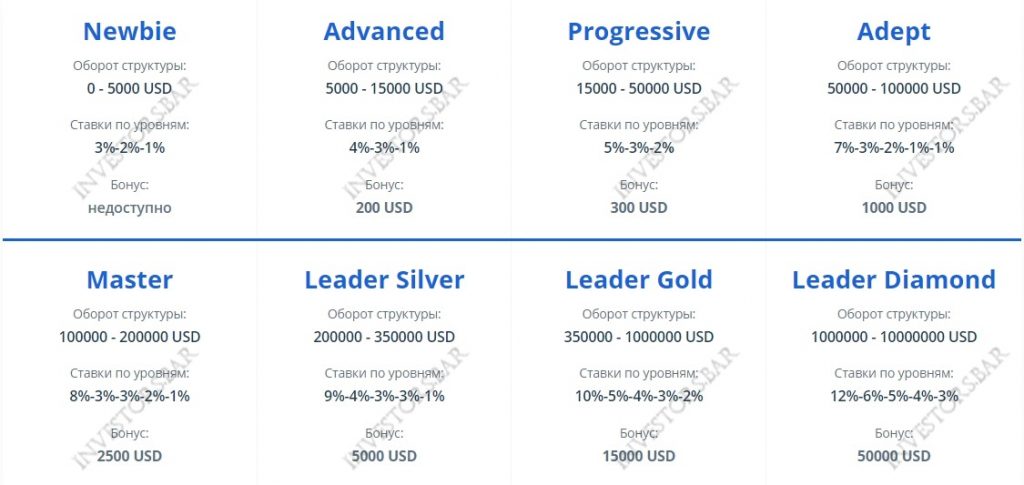 The project provides for a linear partnership program up to fifth level in depth. However, the levels and value of the bonus increase upon reaching different leadership ranks, which in turn depend on the turnover of your structure. Private depositor up to 5000 dollars gets the following refka: 3-2-1%.
Registration and creation of a deposit:
Fortunately, the site has a Russian version, but still for beginners, to make it easier for them to figure it out, I dashed off step-by-step instructions! So ... Go to the site using my link and click in the upper right corner button "REGISTER". Next, we fill out the registration form in Latin: mail, login, password and payment password. Be sure to check that in the "Sponsor»Written Bartenderto qualify for # mind-blowing_ crazy_ uncompromising referral from bearded man. Click the "Create Account" button.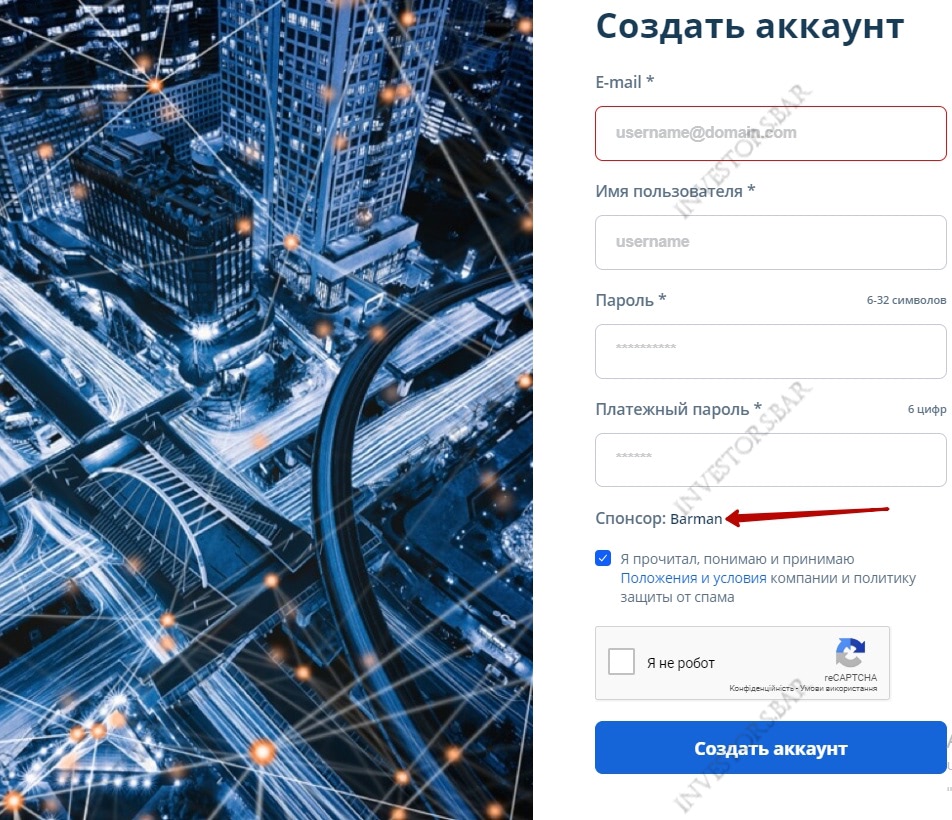 Vlaha is automatically transferred to your personal account, where to replenish you need to press the button in the left column "Fill up balance". Now we select the required payment system, enter the desired amount and click "Fill up balance".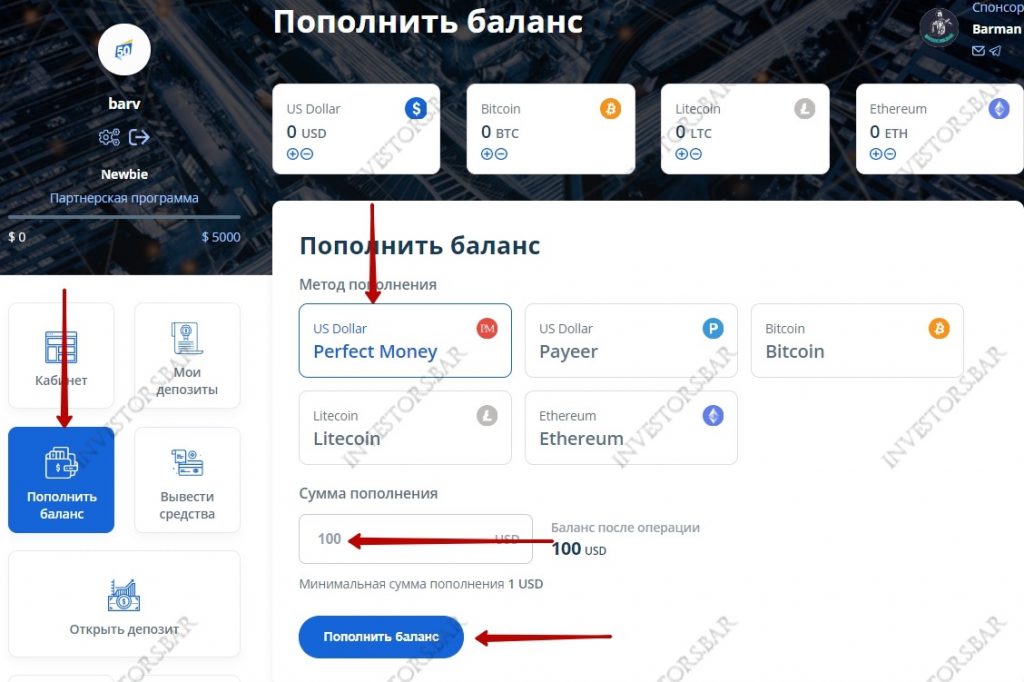 Next, we carry out the necessary actions in merchant payments and bench goes to the balance. We return to your personal account and click on the left "Open deposit". Select the currency, enter the deposit amount and click "Open deposit".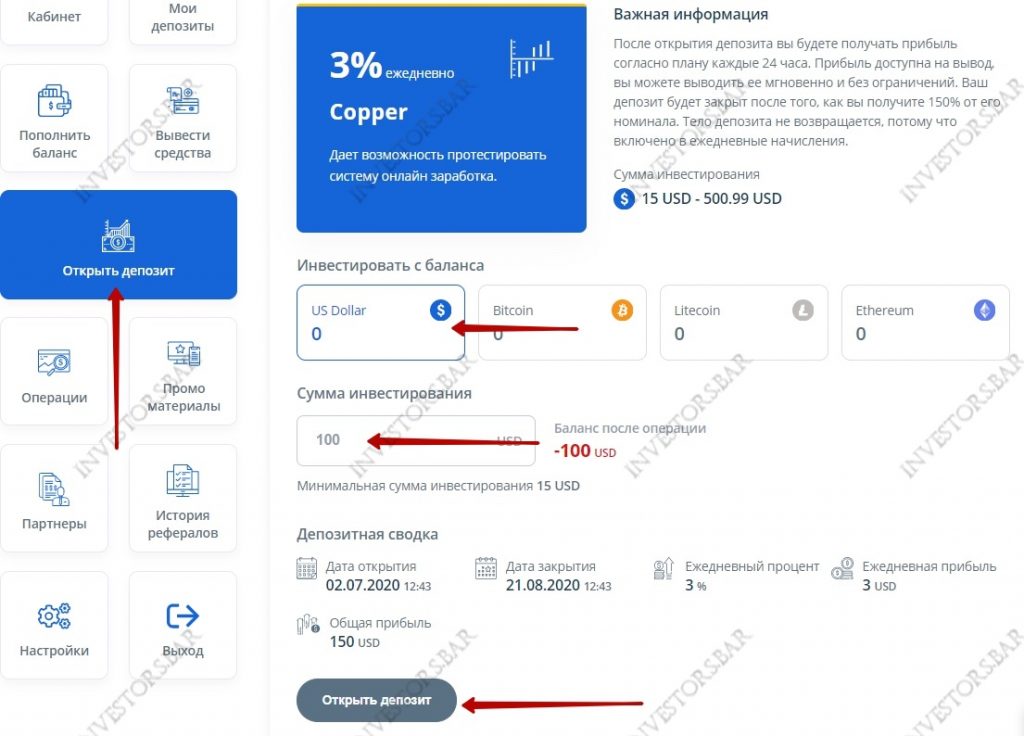 We enjoy daily income and do not forget to order daily asashayskie_rupia to the conclusion!
Lifehack from the bartender:
The minimum investment amount is 15 $.
The minimum amount for payment is: $ 1, 0.0014 BTC, 0.05 ETH, 0.01 LTC.
Investment in the fund can be made through payment systems PerfectMoney, Payeer, Bitcoin, Ethereum, Litecoin.
The project has instant payments, instant.
It is possible to withdraw HYIP earnings only for the payment system with which you opened a deposit.
Investment Dynamics: